Introduction – The Problem

Eating healthy can be extremely difficult – especially when surrounded by the temptations of comfort food and the influence of other people.
When you are the only person in the family following a diet, even more self-control is needed to refrain from the delicious food that the rest of the family consumes.
Personally, I've dealt with many of these issues: My father has gone through many weight loss programs and strategies. He is fine for the first week but after initial success, his resolve breaks and he starts eating and gaining back what he lost.
When my father goes on a diet, the family also has to partially follow the suit since the meals are catered to what my father is allowed to eat. This is challenging for the family too, especially ones that have children who need the extra protein and the carbohydrates absent from the diet to grow.
The difficulties associated with trying to separate the non-dieting and dieting members within a family can really weaken a person's resolve to persevere though a diet. Plus, watching the rest of the family eat the steak or chocolate that you are trying so hard not to touch is very frustrating.
The solution? Juice diet your way to health!
A fruit and vegetable diet is often an excellent way to cleanse your body and provide it with the nutrients it needs. Staring at a huge plate of broccoli and spinach can be very daunting – luckily, Joe Cross, an Australian author, came across a solution:
Juicing all those veggies and fruits to fit into a single cup (aka the juice diet). For example, one cup of vegetable juice called "Super Green Detox" contains:
6 kale leaves (Tuscan cabbage)
2 large handfuls of parsley
1 large cucumber
2 celery sticks (plus leaves)
1 zucchini
1 lime
The cup contains more vegetables than what most people normally consume during a meal. Plus, the vegetables are easy to take in since they are mixed into a single, manageable cup.
Another added benefit to the juice diet is that everyone, not only the people watching their weight, can participate.
In addition to providing nutrients, there are many juice recipes that address other problems such as acne and insomnia.
The "Stars and stripes juice" has ingredients that help prevent inflammation and is a great juice to power up for the day: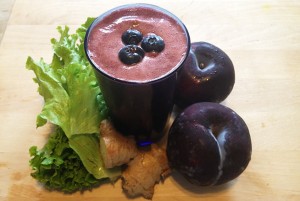 2 plums
1 pint (16 oz/400 g) blueberries
1" piece of ginger root
1 handful green leaf or romaine (cos) lettuce
The juice diet eliminates the problem of separating meals since the family can continue to eat normally while the dieting member enjoys the juice. My father is following a juice diet (can range from 10 days to even 60 days) and is happy with the results.
As you undertake this juicing journey, you will find that the rest of the family will often drink a juice with you and that it's a great way to stay in shape even when you are not dieting.
Yours truly,                                                                                                                                                                    Steffi