A great way to exercise is through riding your bike. Not only does cycling allow you to travel very far relatively quickly, but it also keeps your heart and other muscles fit and healthy.
Even cycling, though, has it's challenges. Mapping out new routes and keeping track of statistics, such as calories burned, can be quite a hassle. The Cyclemeter GPS solves this problem and even allows you to build a workout plan.
Cyclemeter GPS: The Layout
As the name implies, Cyclemeter GPS has a tracking function that can map your routes and tell you how to bike to a certain destination. The app can inform your family and friends of your location in case you need help.
You can also view the terrain, traffic layout, and automatically record the weather at the location.
Cyclemeter GPS allows the user to monitor heart rate, bike speed, cadence, and bike power. When you touch the
stopwatch, you can see different statistics, maps, and graphs to analyze your workout.
The app organizes your workout plans on a calendar and allows you to see your statistics by different time spans such as day, week, month, year, and overall.
While biking, you can start and stop recording your statistics with the earphone remote. The app also enables you to hear announcements during your workout such as distance, time, heart rate, and speed updates at specific intervals or on-demand.
Cyclemeter GPS can even exclude stopped time with its automatic stop detection. Thus, you don't have to worry about keeping track of or subtracting the time you take to stop at a red light, for example.
The app enables you to compete against yourself or other people, see virtual competition on maps and graphs, and hear announcements regarding your performance compared to that of your competitor.
Cyclemeter GPS also keeps you on track with realistic targets and interval training.
Cyclemeter GPS: Additional Features
While Cyclemeter GPS is a great app for cyclists, it has many additional functions to suit the needs of other forms of exercise such as skating, running, walking, and skiing.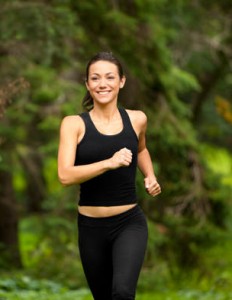 Cyclemeter GPS records your steps and cadence during the day with the M7 coprocessor in iPhone 5S or later. You can make your own running plans or follow the ones provided by the app which include 5K and marathon layouts.
You can share your progress online via email, Facebook, Twitter, and other social networking sites and listen to the responses of your followers, family, and friends using the text-to-speech technology. Additionally, you can share your workout plan and calendar with your coaches to keep them updated on your performance.
Overall, Cyclemeter GPS is a useful app that can transform your biking experience.
-Steffi