Cosmetic Dentistry Trends
Dentists are constantly looking for new ways to improve dental healthcare and thankfully thanks to technology and innovative thinking there are some new, and trendy dental procedures on the market. Gone are the days of being inconvenienced by time- some of these new methods will have you walking out the door in one hour. While cosmetic, many of these procedures can be used to alleviate pain stemming from structural problems. These cosmetic dentistry trends are faster, easier and here to stay.
Veneers have been used by many people for hundreds of years but now we have Lumineers. About as thin as a contact lens, the process is far less aggressive as it does not require grinding the original tooth surface down. With less post-op sensitivity, and a life span up to 20 years, Lumineers is a fantastic alternative to traditional composite or porcelain veneers.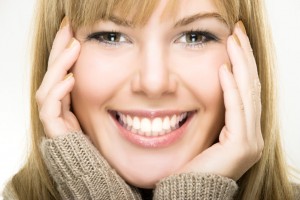 With hundreds of at-home bleaching systems available at your drugstore the need to visit your dentist for professional bleaching has decreased. For those of us who have deep staining and discoloration whitening strips and pastes won't make a dent in, we can turn to KÖR whitening, a deep bleaching system. This system provides permanent long- lasting results. Thankfully the KÖR whitening deep bleaching system produces little to no-sensitivity in many patients, an all too familiar issue with at-home systems. The maintenance is minimal in an effort to minimize interference in the patients daily life. Coffee, tea, and red wine are no match for this system.
Some of us will eventually have to think about dentures and traditionally there was a lot of pain and time involved including bone grafting, multiple parts, and a long recovery time. "All-on-4" implants now has a solution to solve many of these complications. Thanks to the shorter treatment times and lower costs, "All-on-4" implants are a rapidly growing popular choice. Functional and aesthetically pleasing, "All-on-4" implants provide a solution to many.
3-D printing is rapidly- growing in many fields, and cosmetic dentistry is no exception. A system called "Cerec" is now on the market for doctors. Used to create crowns for patients, this procedure can be done in as little as one hour. Compared to the typical two week wait, one hour is a welcome change! Cerec has been in the business for over 30 years and continues to be an innovative leader in dentistry.
Last but certainly not least, many offices are offering "full mouth reconstructions." While package deals are not a new concept, cosmetic dentistry deals prove to be popular and effective due to a combination of functional and visual changes one can make for their teeth. Check with your dentist office to see if they have the right package for you!
How about some more smile booster tips ?