Head injuries in athletes
NFL Concussions are a very common problem. With athletes, and particularly with football players. Many athletes who sustain concussions have complained of various problems.  These include  depression and anxiety,  plus suicidal thoughts.
A study in the Journal of  Sport and Exercise Psychology indicates that concussions can indeed cause a myriad of problems and conditions, including:
Biochemical disturbance in the brain
Depression
Anxiety
Confusion
Inability to think clearly
Memory problems
Anger
Frustration
Fatigue
Dizziness
Nausea
Headaches
Vision problems
Sensitivity to light
Sensitivity to noise
Another very important study on concussions was presented at the 2003 meeting of the American Association of Neurological Surgeons. This study focused on retired pro football players and was titled, "Recurrent Sport-Related Concussion Linked to Clinical Depression."
The objectives of the study included trying to determine if concussions could be a cause for clinical depression or for Alzheimer's disease. Health care professionals may describe a concussion as a "mild" brain injury because concussions are usually not life-threatening. Even so, their effects can be serious.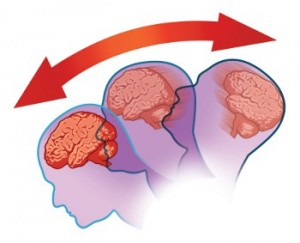 What kind of treatment you should seek. Most people with concussions recover with appropriate treatment. But because a concussion can be serious, safeguarding yourself is important. Here are a few steps to take: Seek medical attention. A health care professional can decide how serious the concussion is and whether you require treatment. If you have suffered a grade 1 or grade 2 concussion, wait until symptoms are gone before returning to normal activities. That could take several minutes, hours, days, or even a week.
Experts recommend follow-up medical attention within 24 to 72 hours if symptoms worsen.