The number of total knee replacement surgeries has tripled between 1993-2009 and is continuing to rise. People are living longer and many do not want to sacrifice their active lifestyle because of age. Now more than ever people are looking to knee replacement surgery to allow for a longer active life.  However, a knee replacement is a major surgery. There are many factors to be considered before going under the knife. Learn why you might not be an appropriate candidate for knee replacement surgery.
Knee Replacement Candidates
Most orthopedic surgeons will recommend that a patient receive a total or partial knee replacement between the ages of 55 and 70. Receiving a knee replacement before the age of 55 many times results in the patient having to go through another replacement surgery years later. Younger knee replacement patients have a higher failure rate and the replacement wears out more quickly. A second replacement surgery is usually less effective, because there is less bone to support the joint implant.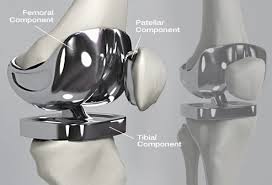 Knee Pain & Mobility
If the patient's quality of life is being detrimentally affected because of knee pain & a lack of mobility they may be an appropriate candidate for knee replacement surgery. Patients with severe arthritic conditions are the ideal candidates for a knee replacement surgery. Individuals with osteoarthritis are the most common patients for a knee replacement.
If the patient's quality of life is not severely affected by pain and/or mobility most surgeons will suggest the patient tries all non-operative treatments before doing a knee replacement. Some non-operative  treatments include weight loss, physical therapy, cortisone injections, and joint fluid supplements. If non-operative treatments are not able to help with the patients knee pain well enough, then a orthopedist will likely proceed with a replacement surgery.
Overall Health
Knee replacement is a major surgery and like any surgery it has its risks. Patients must be in good health to be considered a candidate for a knee replacement. Patients with serious medical conditions such as heart problems or if the patient has any sort of bodily infection they would not be an good candidate for surgery.
If you would like to read more about total knee replacement surgery check out this article by the American Association of Hip and Knee Surgeons.