Melatonin Sleep Aid.  This is a natural hormone made by your body's pineal. This is a pea-sized gland located just above the middle of the brain. During the day the pineal is inactive. When the sun goes down and darkness occurs, the pineal is "turned on" and begins to actively produce Melatonin for sleep, which is released into the blood. Usually, this occurs around 9 pm. As a result, melatonin levels in the blood rise sharply and you begin to feel less alert. Sleep becomes more inviting. Melatonin  levels in the blood stay elevated for about 12 hours – all through the night – before the light of a new day when they fall back to low daytime levels by about 9 am. Daytime levels of melatonin are barely detectable.
Melatonin Sleep Aid, Can i take melatonin at any time?
If Melatonin  is used during daytime brightness, it can cause adverse effects. If the body clock is receiving conflicting daytime light signals and dark signals from melatonin, it can malfunction and not work properly when it is time to go to sleep later.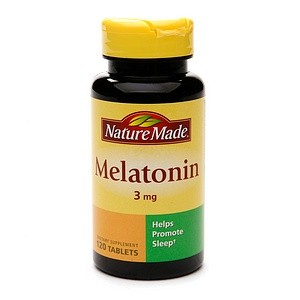 Chances are good that you have seen melatonin in health food stores or in an advertisement or article.  No other hormone is available in the United States without a prescription. Because melatonin is contained naturally in some foods, the U.S. Dietary Supplement Health and Education Act of 1994 allows it to be sold as a dietary supplement (e.g., vitamins and minerals). These do not need to be approved by the Food and Drug Administration (FDA) or controlled in the same way as drug.
Appropriate Melatonin Dosages :
Because it is not categorized as a drug, synthetic melatonin is made in factories that are not regulated by the FDA. Listed doses may not be controlled or accurate, meaning the amount of melatonin in a pill you take may not be the amount listed on the package. Most commercial products are offered at dosages that cause melatonin levels in the blood to rise to much higher levels than are naturally produced in the body. Taking a typical dose (1 to 3 mg) may elevate your blood melatonin levels to 1 to 20 times normal.